Michelin Agilis CrossClimate Tyres Available in Newry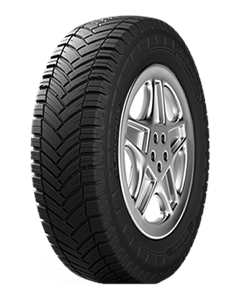 Agilis CrossClimate
Product Benefits:
Safety in every weather condition:
Grip-maximizing tread compound, for indentation in the ground whatever the temperature.
Unique V-Shape tread-pattern with wide grooves, for optimal water and snow evacuation.
A rigid sculpture with 3D self-locked sipes, to improve dry braking performance.
A unique tread-pattern to maximize traction on soft grounds (snow, mud, grass, gravel...), combining:
V-Shape sculpture, with massive tread-blocks for optimal gearing.
Full-depth sipes with sharp edges, for long-lasting clawing effect.
Wide grooves with self-cleaning capacity.
Last generation Tread-wear Indicator:
4 levels to monitor the remaining rubber depth (0% = Legal Tread Indicator reached. Tyre needs to be changed).
Easy to monitor tyre wear, hence reducing maintenance downtime.