General Grabber HTS60 Tyres Available in Newry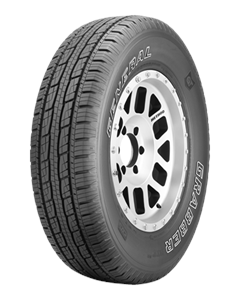 Grabber HTS60
Duragen: Ultra High Strength Technology
Ultra high strength steel belts, micro-fiber casing reinforcements, and broad tyre contour provides even treadwear for longer mileage and confidence in challenging conditions.
Stabili Tread Technology
A flatter footprint, optimized tread pattern stiffness and an improved tread compound provide up to 25% more tread life than the original Grabber HTS.
Comfort Balance Tread Cushioning System
Tread cushioning system combined with sound barrier ribs provide a more comfortable, quiet ride.
Pattern Optimisation
Metric sizes are optimised for excellent grip in wet and winter conditions, while LT sizes are optimised for improved tread life and stability under heavy load.