Continental AllSeasonContact Tyres Available in Newry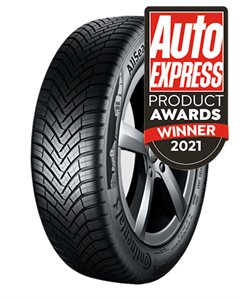 AllSeasonContact
Impressive grip on snowy and wet winter roads
Good braking performance on dry and wet summer roads
Best-in-class rolling resistance performance
Product Benefits:
Impressive grip on snowy and wet winter roads due to adaptive all-season compound.
With its Winter Performance Resins and a high silica fill rate in the Traction Silica Compound, the new AllSeasonContact always stays flexible. This adaptability ensures excellent performance on snow-covered and wet winter roads.
Good braking performance on dry and wet summer roads enabled by flexible all-season tread design.
As a trustful companion, the new AllSeasonContact convinces in any summer condition. Responsible for this is the combination of open shoulders for high aquaplaning performance and stiff pattern with minimum sipes for better handling and braking on dry roads.
Best-in-class rolling resistance performance achieved through energy-optimised all-season construction.
The impressive decrease of the rolling resistance based on optimised sidewall geometry and optimal pattern depth leads to a significant reduction of fuel consumption – without compromising on safety aspects.