Bridgestone Potenza Race Tyres Available in Newry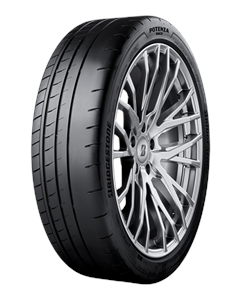 Potenza Race
TECHNICAL FEATURES & BENEFITS
OPTIMISED CONTACT PATCH
TO GUARANTEE HOMOGENOUS PRESSURE DISTRIBUTION AND CONTROLABILITY.
You can have all the power in the world, but if you can't optimise the contact point with the track surface you are wasting energy and losing valuable time. Our Potenza tyres are designed to reduce hot spots and optimise efficiency by equalising the pressure over the contact point.
HYBRID CROWN REINFORCEMENT
FOR STABILISED PERFORMANCE AT MAXIMUM SPEEDS.
All tyres are designed to flex, but how they flex under extreme loads – i.e. top speeds, whether in a straight line or around corners – must be an integral part of the design solution. Our hybrid crown reinforcement stabilises the tyre envelope at speed.
ASYMMETRIC TREAD PATTERN AND WALL ANGLES
TO MAXIMISE CORNERING POWER AND BRAKING POTENTIAL.
The asymmetric tread pattern and wall angles increase lateral stiffness to maximise lateral stability and reduce block deformation. For a consistent perfomance until the last lap.
SPORTY PROFILE SHAPE
TO MAXIMISE STABILITY AND BRAKING POTENTIAL.
A tyre needs to do many things including transmitting power and applying braking forces. Friction is key, as only the parts of the tyre in contact with the road can deliver. With its extra width and higher contact footprint, the Potenza race tyres optimise dry braking performance.
HIGH RESISTANCE COMPOUND
AGAINST ABRASION FOR LONGER TRACK ENDURANCE.
Semi-slick tyres are designed to be pushed to the limit, but that's no reason they shouldn't last. It's why Potenza race tyres are made with a high resistance compound that includes reinforced silica and a mix of resins, and include nano-scale reinforcement to ensure you can enjoy outstanding track longevity.